My Favorite Photo Ever: A Military Dog Jumping Out of a Helicopter – Alexis Madrigal – Technology – The Atlantic:
"The question of how the dog got into bin Laden's compound is no puzzle — the same way the special ops team did, by being lowered from an MH-60s helicopter. In fact, U.S. Air Force dogs have been airborne for decades, though the earliest flying dogs accompanied Soviet forces in the 1930s.

Dogs usually jump in tandem with their trainers, but when properly outfitted with flotation vests they can make short jumps into water on their own. A U.S. Navy SEAL, Mike Forsythe, and his dog, Cara — pictured [below] — recently broke the world record for 'highest man/dog parachute deployment' by jumping from 30,100 feet."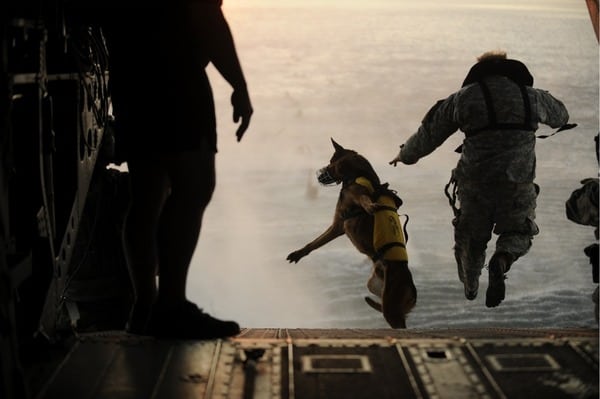 I can't imagine being able to do much of anything but say "GOOD BOY!" to my dog Jake.
Neat stuff. Worth checking out the page just for the photos.