Nic Napier, writing for Indianapolis Monthly:
Sitting in the backseat feels like enjoying a slow, easy-going roller coaster ride, with downtown Indy acting as scenery while the car goes for a stroll. At times, the drive can be quite bumpy, as the extremely cautious technology takes into account every pedestrian, vehicle, and object that might cross paths with the car. It will slow if it senses something in its path and will slam on the brakes if necessary. This even includes detecting steam coming up from a vent or a manhole. The vigilance keeps the speed under 25 mph.
I've been working at IUPUI's campus lately. I like the quiet the summer provides and I'm old enough to appreciate how wonderful working at University Library is. This is also partially because the Indianapolis Public Library continues to limit patrons to an hour at Central Library.
I wanted lunch yesterday and knew the JagLine shuttles had a route that looped into Downtown. I looked up the map, walked over to a stop near Herron School of Art and Design and was waiting a few minutes for it to arrive. One of these self-driving cars pulled up and the driver sheepishly asked if I was waiting for a shuttle.
"Where are you headed?"
"Red Line station", I replied, knowing the shuttle route stopped there — its furthest point off campus.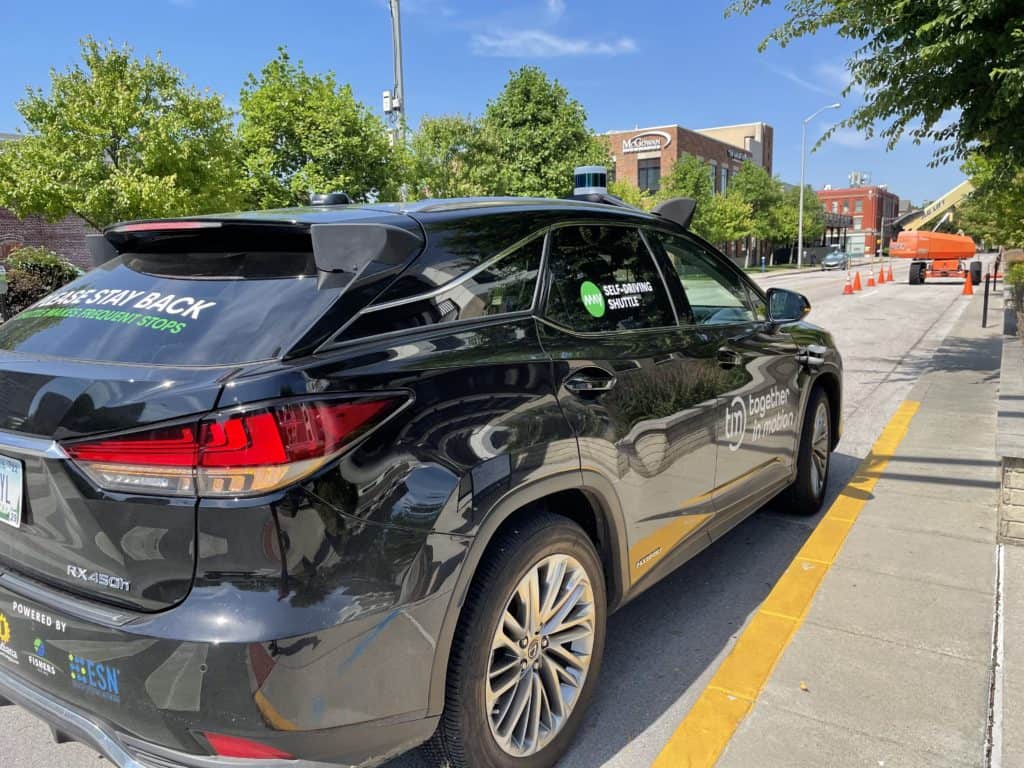 "Get in!" And really, when a random man with a bunch of "SELF DRIVING VEHICLE" stickers on his car asks you to get in, you do. Because it's 2021 and I was thirsty.
The driver was nice, and Nic's assessment is right. I described it to someone later as "herky jerky".
The driver has to take control in most left turns, pulling out into traffic such as when we pulled onto New York from Herron's "driveway" or a parking lot. "96% of the time we're fully autonomous," the driver said.
My impressions:
It's hot and loud. The car has so much electrical pulsing through the computers in the hatchback it's like sitting next to an exhaust fan. Because it is a fan trying to keep the components cool. If the car had A/C, it wasn't on. The driver suggested I could roll the window down. But at 25MPH it doesn't produce much air flow. I had to yell and strain to talk and hear him.
Because the car errs on the side of caution — as it should — it's ready to brake more than anything. If a light changes, it's fast to hit the brakes way back before the intersection. And it brakes slowly up to an intersection, something human drivers don't do, to the detriment of their brakes.
The car is keen to obey speed limits. The driver not so much for good reason, often because no one else is. Pulling into traffic from a right-on-red caused the car to err to the side of caution so much it felt like it was stopped. The driver took control and pushed the gas lest someone plow into us.
It's a small Lexus hybrid SUV. A "shuttle" it is not. It's a car. If more than one person wanted in there's no room lest they sit next to me in the backseat.
The driver was keen to encourage me to ask questions. I didn't really have any. I know enough about self-driving tech to understand how the cameras and LiDAR work, which it has in addition to some other bells and sensors. But it made me think, "I just kinda want to sit here and listen to my podcast."
A UV decontamination light is in the back mounted on the roof, presumably a COVID-protocol designed to eradicate germs.
The car feels like riding in the backseat of a student driver's car.
The cars all have "M" names. Mine was "Mooi"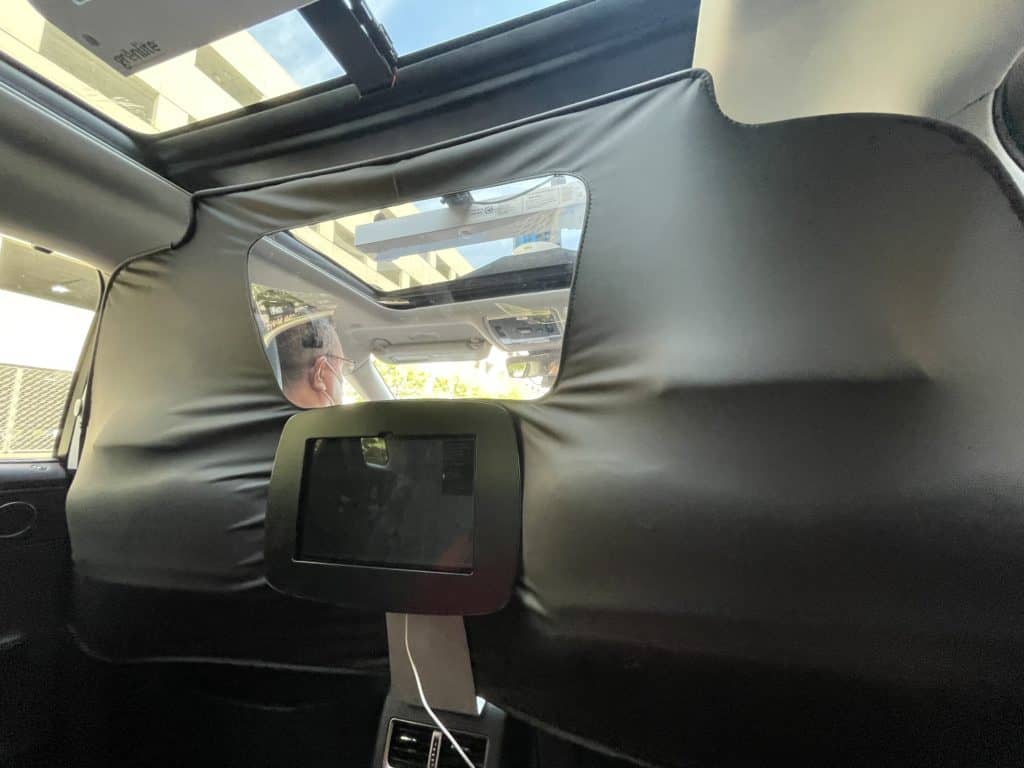 The driver told me, "I'm pretty sure you're the first person in Indianapolis to get picked up for a ride in one of these."
I assume that excludes the press and obviously the staff. And the fact they've been in operation during IUPUI's summer is going to suppress ridership. But at the same time that's pretty damning: free Ubers for weeks and "no one rides this thing". Where have I heard that before?
Like I told the driver, who I met again on my return trip because the shuttle refused to leave the middle of campus and was horribly late, "This technology has a way's to go. But at least it showed up."
I didn't know where it was in relation to me most of the time I was waiting, a problem solved by the JagLINE's mobile app tracker. IndyGo has a similar function. And unlike the free IUPUI shuttle, this one at least moved when I needed it.
Once again reiterating all the same problems transportation has:
Cars don't solve geometry. It was still 1 person in a car + a driver going to one spot.
Shuttles have to be consistent. I'm sympathetic to a driver who thinks, "It's been quiet today. I'm going to go grab a drink." But if you're on duty, you're on duty — keep moving because you don't know who might be waiting at the end of the line.
Toyota Mobility, the May Foundation, the City of Indianapolis, Fishers, and the State of Indiana are all-in on this thing. Fishers apparently has something operating soon between a couple of incubators and "Downtown" Fishers. That might appeal to suburbanites allergic to sharing a bus seat with more than one person, but it's going to be a long, long time before anyone's getting these to their front door. And given the "comfort" of the car, I have to imagine most people in Fishers will just get in their own cars and drive, which defeats the point of everything.
The driver agreed, "That's why we're doing this. To test and get better." A laudable goal because autonomous shuttles seem like such an obvious future for trucking, busing, and transportation safety.
For now, it would have been faster to bike or take a standard public bus.