The funny thing about Indianapolis is how you can bump into people in ways like you might think of in a small town. I guess it's not impossible a person in Chicago or New York might randomly see someone around town in the course of a day's errands. But I think it happens more here.
To give you an example I met a guy for coffee one afternoon. I can't even remember where or why I extended the invitation, but it was probably Facebook. After seeing this guy's name in a few circles about some website work I figured it was worth a chat. I make it my business to know people in my business.
We meet for bad coffee and service at Mo Joe's and we talk about the usual niceties. He's from El Paso, Texas. Works for a local shop that makes websites for high end service groups. In both cases he's simultaneously more southern and more webby than me. Which is annoying.
Before we go he mentions his boyfriend was at the table right behind me the whole time. Not coincidentally, of course, but we took a few moments to talk about his work. Turns out he's interested in freelance architecture design that's more approachable and affordable for average people.
We part ways and a few weeks later my ash tree in the front lawn dies. Those two facts aren't related, but I also have no proof they aren't.
And in the funny way Indianapolis ticks, I saw these two guys a couple more times. Once on my bike on the way home. Then again twice in one weekend at two distinctly different places miles apart from each other.
The whole time my ash tree continued its slow death slide into being a literal stick in the ground.
In pursuit of finding a guy to cut down and replace the tree I discovered that the people who cut down trees aren't the people who put them in the ground. Those seem like obvious lateral business moves to me, but I'm not a lumberjack or a landscaper.
After finding a bunch of quotes from landscapers and tree removers in the range of $500-$1000, these were all far higher than I valued such a service. So applying a process I call "encouraging people to do it for less", I managed to get a guy to do it for $375. Henson's Landscaping did a fine job of chopping down the tree and grinding out the stump. I just wish I could have gotten them to give me ideas on the "landscaping" part of their name. But they never returned my call. Like about a dozen other places in town. It was starting to become a vast hellscape of broken promises. I wasn't indicating anything other than "I have a house. I'd like some landscaping."
So I turn to calling all kinds of places for quotes on landscaping. All the ones that showed up in trucks with logos on them were immediately out of the running. Too pricey with too much overhead. I know how much guys like me cost, and someone has to pay that logo designer.
And in step with Indianapolis' modus operandi, these two guys I met for coffee popped in my head. "I bet they know people who know things about trees."
Turns out they know things about trees. Joey Ponce and Brian Burtch, both operating under the banner of "City in Green" came out to the house and gave me 100% more than at least a dozen other places around here would: in that they actually came to the house and gave me a quote. No other landscaper seemed to bother giving me the quote or showing up when scheduled. Brian's a licensed architect with his firm NEON Architecture, so the quote even had schematics of my house and property lot. Which was both helpful and creepy.
I like hiring people who operate at small scale. They care more and are way more affordable, but are the hardest to find. I got lucky bumping into these guys.
Brian and Joey gave me an estimate, they stuck to it, and we were able to split things into phases to meet the seasons and my budget. This weekend they came out and replaced the death hole in my front lawn with three new trees. A red maple, dogwood, and eastern redbud. They'll grow quickly, look good, and they're not ash trees, so they stand a solid chance of not being eaten alive by supper.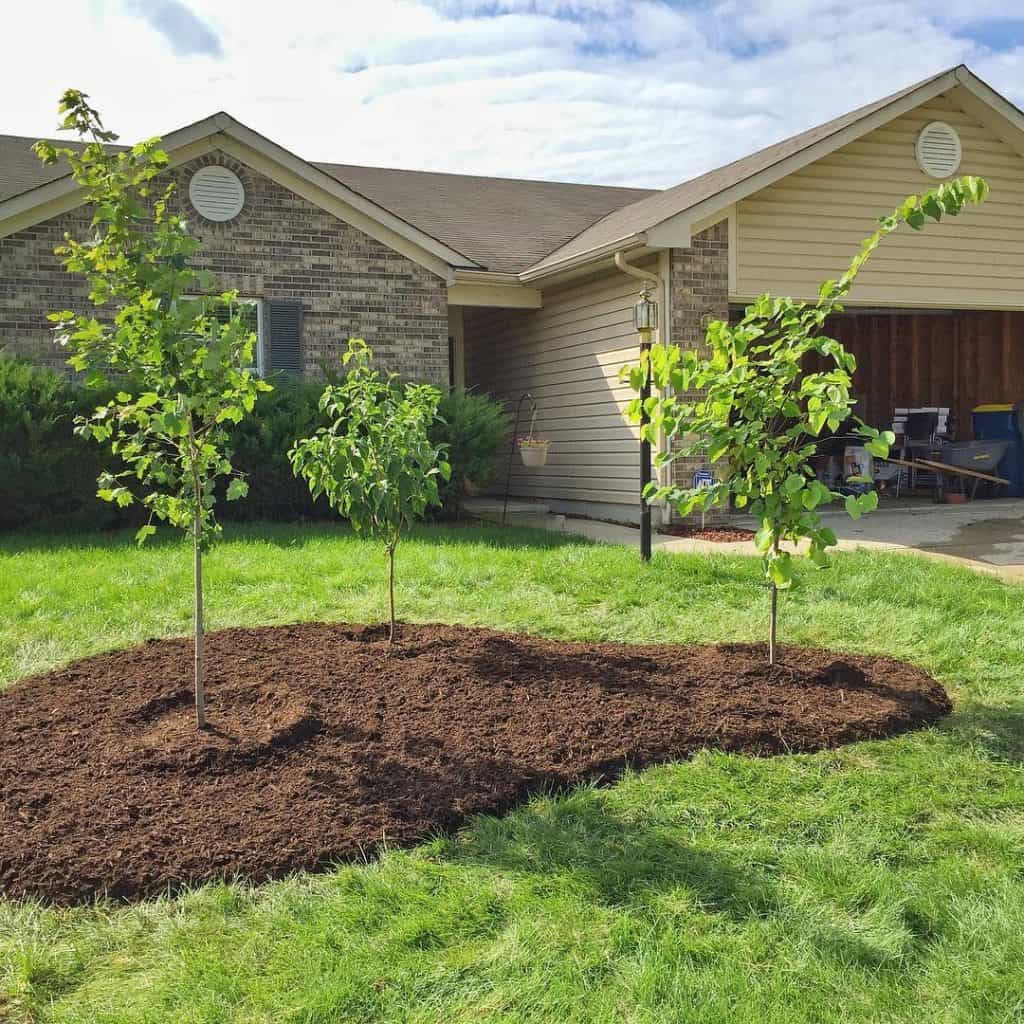 Next spring we'll throw down phase two: a mulch bed off the front of the house with native grasses and plants. And by "we" I mean them while I stand around remembering how much I don't like to be dirty and Jeremiah makes dinner.
As it turns out this was their first landscaping project. You should be their second. Because this is how Indianapolis works and and stays looking nice.