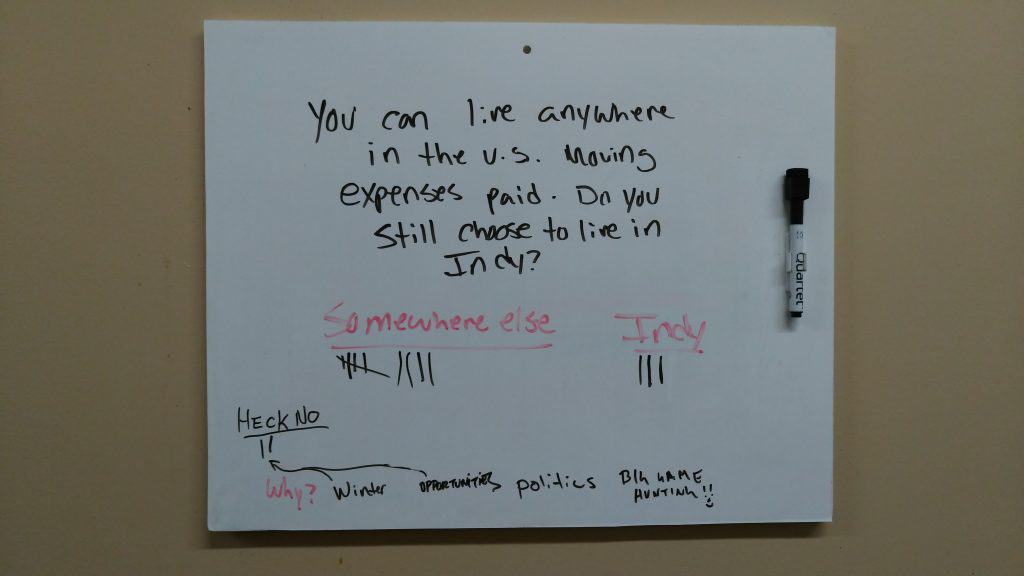 Last week's hallway whiteboard outside SuperPixel World Headquarters asked passers-by if expense weren't an issue, would you move away from Indianapolis or stay here? There was also a little follow-up about why.
It's highly informal and doesn't mean much, but it does echo a common refrain: "Indiana's weather is bad" and "Indiana's politics are wrong."
The political issue is what it is. But we have a better chance of changing the weather than we do the Legislature. Or at least we have a better chance of embracing the weather.
Everyone's gripe is that it's cold and it snows; which are certainly two defining criteria for "winter." Indianapolis should stop apologizing for winter. Lots of places have winter. Chicago has a winter. Buffalo has a winter. No one in Buffalo sits around crying about the snow and neither should we.
Instead, Hoosiers should embrace and prepare for it, because there's another one coming around.
Encourage everyone to put on a thick coat and snow boots and promote sledding, ice skating, skiing (yes, skiing – there are two great slopes just a 90-minute drive away from here), and hockey.
Indianapolis promotes itself as the Sports Capital of the World. We've done a lot for basketball, football, racing, and swimming. We're continuing to improve in baseball, hockey, and soccer. Why not extend that to snowboarding, bobsledding, figure skating, curling, and other winter Olympic sports?
We already have the facility for curling, hockey, and figure skating. Carmel's interested in building an ice skating rink. Building facilities for Bobsleighs and other winter sports doesn't seem any more impossible than what we've consistently already done. Except skiing, none of this requires a mountain or some other geographic trait we don't already have.
Open the spectator sports for sports lovers, and you'll have facilities people can enjoy themselves. Then instead of always complaining about winter and apologizing for it, we can market it and make Indianapolis the most kick-ass winter city in North America.