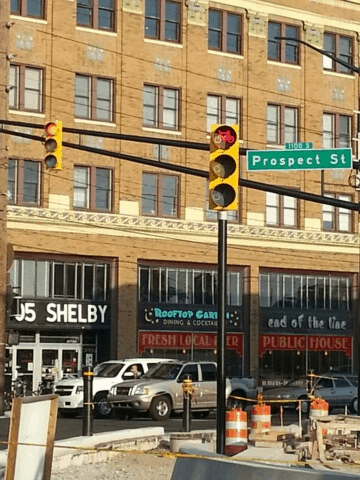 Two things about Indy today.
The first, via Reddit/r/bicycling, is this photo of a bike-light in Fountain Square. Imagine my surprise that it wasn't in Amsterdam or someplace else more, uh, less-car-centric. 
Second, Away.com ranks Indianapolis with some lofty company as one of the world's best bike-friendly cities:
Indianapolis… really? This bustling heartland metropolis is going out of its way to cater to cyclists, both local and visiting. First, the city has almost 64 miles of on-street bike lanes, while an urban bikeway plan will add more than 200 miles of bike lanes across the city over the next 12 years. Starting in summer 2012, the Cultural Trail, a brand-new eight-mile urban bikeway, will link all six of the city's cultural districts, allowing cyclists to effortlessly make their way from one neighborhood and attraction to the next. Not only is the ride smooth, but the sights along the way provide additional whimsy in the form of huge public art installments. On "Swarm Street," cyclists are treated to LED-powered "fireflies" to mark the way, while the trail that goes through White River State Park, a 250-acre urban green space, provides stunning skyline views.
For comparison, remember that Indianapolis has about 3,000 stoplights for cars and the city re-paved nearly 500 miles of roads just this year for cars.