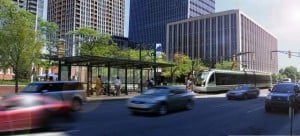 Look at that train. Sleek, fast, modern looking. I bet that thing reminds you of a bullet train from Japan that travels at over 100 MPH, huh? Who would have thought we'd have on of those right along Ohio Street!
"Local leaders", that's who.
Let me be clear: I'm no fan of a big mass transit system in Indianapolis. Why? "Local leaders", that's why:
That plan, like the first one, has a price tag of $2.4 billion. But unlike the first plan, the new plan is heavier on buses and extends rail lines from Noblesville through Indianapolis to Franklin.
Translation: the old plan was expensive and no one liked it enough to give us money. So, in order to get State Sen. Kenley on board to help give us the State's money, this new plan is just as expensive but we're extending trains to Noblesville to ensure he has some good karma from voters there.
…at last week's meeting of the Indianapolis Regional Transportation Council, Carmel Mayor Jim Brainard said he didn't understand why previous transit-planning efforts weren't being considered.
Translation: Carmel doesn't like that it's not in line ahead of Fishers for magic buses and fairy trains, therefore, this new plan sucks.
This time, the private business sector is going to take the lead — not transit officials. It was businesspeople, after all, who came up with the regional transit plan in the first place as a tool for economic development.
Translation: "private business sector" refers to the Simons. Have you seen the map? Area malls sure are served well and that links to the old map! The new one didn't change that part much. Guess no one bothered to make sure Wal-Marts and Marsh's were covered as well as those malls. Not like they sell stuff that people need, like Nordstrom's does.
I'm all for the private sector taking care of this, but by that, I mean they have to run it. Now we've got a bunch of private businesses trying to lobby government to build train tracks directly to and from their front door. I want the private sector to work with government to say, "Here's what we want to do, we've got the money to pay for it and here's how we're going to make it work at no risk to you or taxpayers." Rates will be higher that way, but it'll still be cheaper than having a car.
Any transit plan in this city has to answer this question: How does Joe Hoosier get from his house at 10th and Arlington to his job at Troy and Harding by 9 am? If  he can drive there in 20 minutes and a bus can get him there in 30, it'll be a success. If he has to take a bus that drops him off at his connection and he has to wait 15 minutes again because the other bus just left and it takes him 45 minutes to get there, it's a failure.