Ten years ago today, at 11:16 A.M., my mother died at our home in Salem. She would have been 50 years old this year.
This is one of three photos I have of her with me: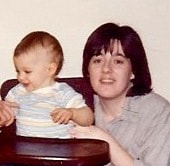 Which means, that exactly 10 years ago today at that time, I walked into Mrs. Duffy's Spanish class. I was a freshman and had just come back from lunch. Someone walked into the room as the rest of the class filed in and handed her a note. It was pink, which meant I was going home. I still remember the look on Mrs. Duffy's face when she saw the note, which read, "Justin Harter to office, ready to leave." She didn't have to say anything. That's when I knew my mom had finally lost her two year battle with a brain tumor.
Mom only ever wanted to do one thing, which was to see me graduate from high school. She was three years too short.
I remember riding home from school with an aunt of mine. I was the last person to make it home. My grandmother, who was staying with mom, was obviously the first to know. She said mom "took a deep breath, exhaled, sighed, and was gone." By the time I got home, Dad was standing near her, crying. My other aunts, uncles and cousins were there. Everyone looked at me as I walked into the living room from the back door via our kitchen.
I was mortified. Mom was lying there, in a hospital bed that had been setup in the living room (because the bed was so large). Her arms were in no particular order or fashion, her hair was unkempt, her body turning blue and bruised. I looked around the room and everyone was just staring. Mom would have been furious at people seeing her in that condition. I turned to my aunt and said, "Go get her a pillow." I turned to Dad and said, "Dad, go call Ben." Ben was the funeral director in town. I straightened her arms and neck. I pulled the blanket up just over her chest.
A few moments later, one of mom's hospice nurses arrived to check on her at her regular time. She came in, said her condolences to everyone, and called another nurse to help them gather the medical supplies. I would later be the one that would have to witness them flushing the narcotics.
When Ben arrived with the hearse, he came in dressed in a red flannel coat and jeans. I was irritated that he hadn't bothered to put on a suit. "I didn't think you'd mind. I was out cutting wood when you called." He said to my Dad. "No, no." Dad replied.
Everyone left the room and stood in the back of the hallway, leaving me, Dad and Ben to lift mom onto the gurney to take her out to the hearse. I turned to my right and saw my grandmother crying in the dark hallway, her sister hugging her.
We put mom on the gurney, Ben wrapped her in a bag, and wheeled her out to the driveway and placed her in the back of the hearse. Just then, my bus drove by. The afternoon went by so fast. The driver, Betty Starr, stopped in the middle of the road with her lights on, opened the door, got off the bus and came up to me and Dad. "I'm very sorry for your loss." She turned, got back on the bus and drove on to finish the last few stops on her afternoon route.
Ben left and drove her to the funeral home, in preparation for the funeral the next day, which was a Saturday. I walked back inside the house and waited until everyone else left. About an hour after everyone left, around 6 p.m., J.D. Martin, my 8th grade math teacher from a year prior knocked on the door. The faculty and staff at Salem Middle School had pitched in and donated money, about $700 worth, to me. He was the one to deliver it.
I went back into the high school to see my teachers in the classes I missed and get my homework that Friday afternoon.
We had the funeral the next day, everyone asking, "Are you ok?" and saying, "I'm sorry for your loss." I kept thinking, "I wish people would stop asking me that." and "I don't know why people say they're sorry about a loss. She's not lost. She's right there and in a minute, she won't be anywhere."
I went up to mom, just after Dad and before my grandmother, as the procession started. Claude Combs was waiting outside to lead the funeral procession in his police cruiser. My grandmother turned to me and said softly, without looking up at me and keeping her gaze on her daughter, "You should touch her, say goodbye, Justin."
"Amazing Grace" was playing in the background. "Mom never would have liked any of this crap." I said to myself. "If mom had her way, we'd all be listening to Lou Begga's "Mambo Number 5″ right now."
I touched her hand and said my goodbyes. I didn't cry that day.
I almost didn't recognize her. I hadn't seen her with her hair cut, wearing glasses or in nice clothes in over a year. Vivian Wilson, who cut mom's hair since she was a girl, was the only non-family member we invited to the funeral, as she was the one to cut mom's hair. She did the best she could. It had thinned quite a bit, and the scars from the brain surgeries meant her hair was growing in odd new angles.
We buried her in a beautiful solid oak casket, draped and surrounded in red roses (her favorite). She was wearing her favorite pair of blue jeans, her favorite Winnie The Pooh sweater she hadn't worn in years and her watch, wedding rings and glasses.
The ride from the funeral home to Salem to the cemetery in Pekin was the longest ride of my life. Dad driving his blue truck, I sitting in the middle and my grandmother on the right. We followed directly behind the hearse, which followed directly behind Claude's car.
It was cold and snowing that Saturday, the day of the funeral. Just as it was cold and snowing the day mom was diagnosed almost two years to the day. She was diagnosed on January 16, 2000. She died, January 18, 2002.
At the cemetery, a cheap looking green drape was placed over the hole and another drape over the pile of dirt that would soon entomb her. The Pastor, Paul Martin, said a few words there, too. He was the Pastor at the church most of my family went to. We did not go to church.
It ended with everyone getting up and walking to their cars. I sat in that crappy wooden chair, directly in front of mom, as everyone filed by me. Eventually, after most everyone else left, I stood up and said to the now-closed casket, "I love you, mom." I turned and walked away. It was the most unceremonious ending to the worst two years of my life — and hers.
I went back to school on Monday. That morning, as I got on the bus, one of our neighbors and a friend of mine said, "Mom and dad were sad they couldn't go to the funeral." "We had a private funeral." I said. "They wanted to say goodbye, too." She said. "Yeah, well, I think I knew my own mother well enough to know that she damn well wouldn't have wanted anyone there but immediate family." I replied. In my head I thought, "I'm sorry that you and your family couldn't go gawk at my dead mother. Perhaps when you have to bury your mother you'll think differently."
The heads of every counselor in the office damn near exploded when I walked back into Salem High. Evidently, I should have been sitting at home, staring at a wall, I guess.
That was, and remains, the longest two years of my life. Since then, everyone has chided me for living such a dull life, for seemingly being bitter and angry with most everything. Perhaps it's because while you were 13 and 14 and 15 years old, you were playing video games and spending time with your friends. I was struggling with my sexuality and holding a bucket under my mom's mouth so she could have something to vomit into.
It changes a person.