Pew in June of this year reported 55% of Democrats say the Republicans make them "afraid". 49% of Republicans say the same thing about the Democrats. Think about that. Half the country is afraid of the other half.
Trump won last night and half the country is afraid. The other half is happy. The same thing was said when George W. Bush won. And when Obama won. And when Lincoln won.
I've spent a lot of time over the last year reading up on Presidents, their administrations, their leadership styles, and the electorate at the time. One thing jumps out at me: we've always been crazy. Americans, and people in general, are not very good at assessing risk. I'm not sure yet that Trump's election is anything too out of the norm.
In fact, a lot was normal last night:
Voter turnout was relatively low.
White people turned out to vote, because they always do.
The country swung back to the opposite-incumbent party. It always does that. "Three terms" is rare.
The stock market freaked out. It always does.
Half the country freaked out. That always happens.
Urban centers voted on a slew of progressive movements favorably.
Rural areas voted against liberalism. They always do.
Everyone complains about long lines and voter suppression. One news story on TV last night was a man complaining his vote changed to Democrats when he voted straight Republican. I also just saw a man at a restaurant hand his phone to another random man and ask, "Do you know how to use Facebook? I think I've just posted the same thing three times." Those aren't related, but computers befuddle people. Nothing new.
Here's what's not normal (yet):
You being insulated by algorithms that makes you think things are how you'd like them to be.
We increasingly have a government that's so large in people's lives any changes to anything throws legitimate fear, glee, or confusion into markets.
I always tell clients that ask for "samples of previous work" that "past work is no indication of future performance, but here you go." The same holds true here. Trump has said so many things we don't know anything about his governance style yet. He could defer to Pence for everything. He could buck his party all the time. We have no idea.
I do think, however, that many voters are pushing for an ideal they're not going to get: being left alone.
Everyone must stop insulating themselves from the working class. You must stop treating them like a block of "others". To say things like, "They like this and don't do that" is only slightly helpful and immensely harmful at worst. You've failed to understand deeply.
I'll give you an example. In the modern era, starting after WWII and expanding rapidly under Nixon, Carter, and Reagan, our government structure has begun to look like this: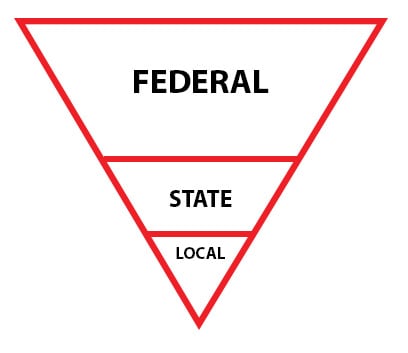 Where large amounts of income flow to the federal government and then down to states and local governments. This is exactly backwards of how most people would reasonably want it to be. It should look more like this: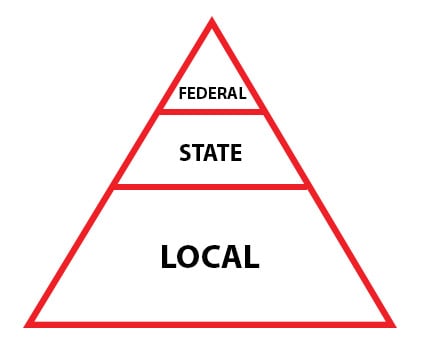 Where our local government receives most of the income for things used in that community. Where the separation of powers and authority still applies. This makes cities truly more competitive against peer-cities. It ensures a greater allocation of resources (fewer "bridges to nowhere"), and makes sure people see the benefits, or lack thereof, of their money in their daily lives.
The fact that our government has become so large, so powerful a force in people's individual lives, that people fear it or jump in glee when something as simple as a president is elected is the problem.  I wouldn't be so worried about marriage rights if the government weren't even in the business of marriage (instead opting for civil unions for all), for instance.
Today I woke up to see people saying they were unsure of what to tell their kids now that Trump is elected. Do you remember what you said when gay marriage was allowed by the Supreme Court? "You'll tell them people can get married now." The same response applies here: "You'll tell them a guy like Donald Trump is President". Because that's what happened and like learning about gay marriage, they'll go back to playing Pokémon.
People in my stream, left and right, are saying they're scared for their lives. But remember that you, too, can arm yourself. You can protect yourself. Just like you can change your diet or learn something new. You may not want to, but you can. And you can, you know, talk to people. Invite them out for a beer or a cookout or something.
Today for a lot of people the ideal of a limited federal government is more appealing. For me it was always appealing. Because without a "strong" federal government you may never get Alabama and Mississippi to legalize gay marriage or expand health coverage. But it's a lot easier to move from Alabama than it is the entire country. Despite half a century of federal intervention by progressives, none of them want to live in Alabama. And despite half a century of federal intervention by conservatives, none of them want to live in New York.
Voters are just saying they want to be left alone. I think progressives and conservatives alike can find a lot of reasons to say the same.