Since it's actually kinda pretending to rain today, I thought I'd share my favorite weather app ever, Dark Sky.
Dark Sky is an iPhone and iPad-compatible app that takes weather forecasting to a very simple, yet accurate, approach. You launch the app and it tells you in plain English what's about to happen in an hour, three hours, and the next 24 hours. When rain is being forecast, it shows a graph and you can view a radar with some of the most beautiful radar animations ever. They don't "start/stop" like traditional doppler radar images. Here's a shot I took a week or two ago on my iPad: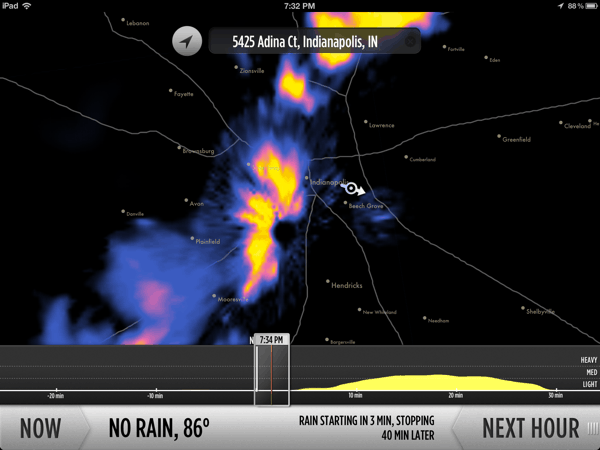 The iPhone version is just as pleasant: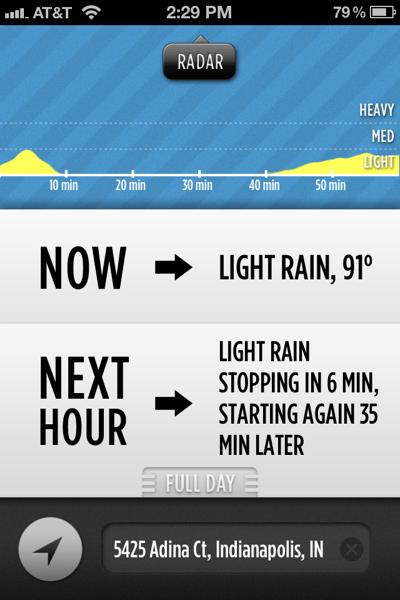 Though I have learned that when I'm sitting in my office, it shows my address as my neighbor's based on the GPS' estimation. If I go to my bedroom or bathroom it pegs me at precisely the right house number every time. It's been insanely accurate, even by Indiana weather standards.
It's a great app. $3.99 on the App Store.