So I have a new goal for 2013: kick ass in the Indy Criterium bike ride next July.
A couple weeks ago I bought this sporty number from Indy Cycle and have been dutifully using it for training each morning as my new racing bike. I do really well in long-distance, endurance rides, and I can ride 10 miles without breaking much of a sweat on average temperature days. But I'd like to excel at short and medium-distance sprints, preferably without getting winded or too bent out of shape.
I started two weeks ago on a 6.71 mile ride in 26 minutes. My average speed was 15.42 miles, but my highest was 22.39 MPH. That's about 3:53 per mile, or 2:40 at my fastest. I'm tracking myself over the next couple weeks to give myself a month-long data set.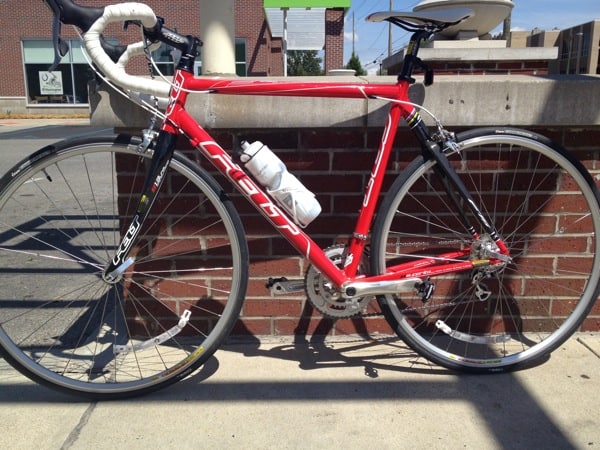 For those curious, that's a Felt F75 series. It's a 2009, the last model year they made an aluminum body with a carbon fiber seat post and fork (the newer models were downgraded to remove the carbon fiber). It's super light and crazy fast. It also uses the same geometry and drop outs as Felt's Tour de France team bikes. Neat!