I wanted to know how to become the best SEO writer in Indianapolis
Copywriters with a focus on SEO like me have to juggle words and phrases that are interesting to humans AND super-readable by bots.
I already ranked for 'Sexiest Man in Indianapolis', now it was time for 'Best Copywriter in Indianapolis'.
Here's how I did it.
Competitor research and project management comes first
Step 1 is figuring out who I'm competing against. This is simple enough: I just do a Google search and see what pops up. I can tell from this list it's a lot of aggregator sites. They're big players, like UpWork and LinkedIn. They aren't, however, that hard to knock off the top spot because Google knows they're aggregators.
Notice, too, there are "People also ask" questions about how much it costs to hire a copywriter, who are the best copywriters, and so on. These questions offer clues into other bits of search intent people often ask, not just in Indianapolis but likely in about any other localized search query.
Weirdly, what doesn't appear is a Map Pack, or the little Google Maps sidebar with locations. If you did a search for "best chicken sandwich in Indianapolis", you sure as heck get one. (Love Handle, Steer-In, and Shapiro's all rank up there. Good choices!) Perhaps because there is no single "Indianapolis Copywriting Company" today.
Lastly in this phase, I go looking at their page rank scores, domain authority, and figure up if I can compete.
Webpages are like Pokemon: a trainer can be experience or not (high vs low domain authority) and have experienced or inexperienced Pokemon (high page vs low page rank webpages).
My level 5 Pikachu can compete against another level 1-6. I know to get there I may have to compete against other, smaller pages on page 2 or 3 for a while to "level up" later.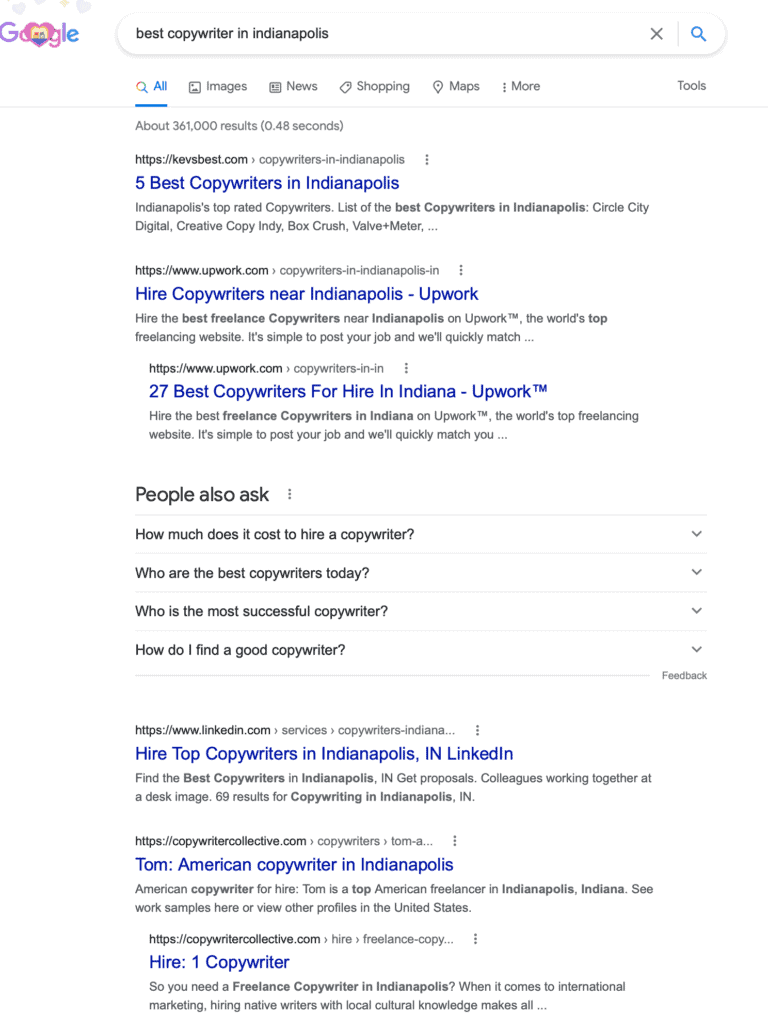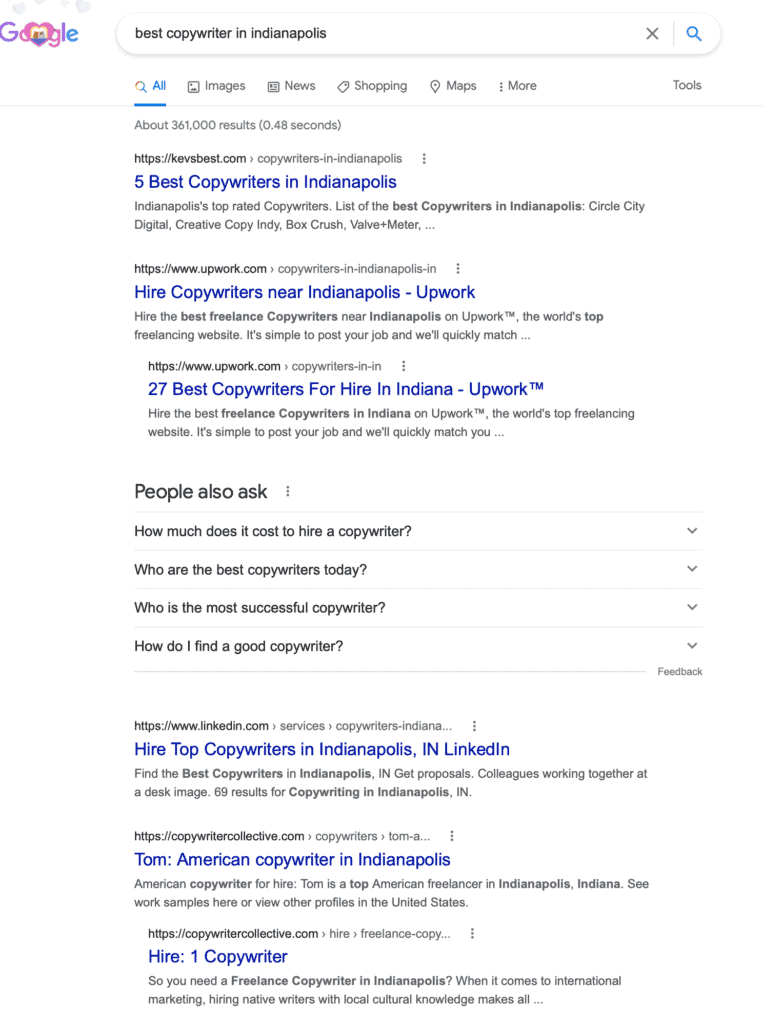 Keyword research comes second
Before I've even bothered to draft a word of this webpage, I need to plan out what's table stakes first. Search engine optimization is about strategy, craft, and developing a "library" of "content marketing hubs" (I hate the phrase "content marketing, by the way).
After comparing the top webpages for "best copywriter" queries, I run each page through a word counter. I'm looking to find:
How many words do I need?
How many headings do I need to include?
What are some of the key words and phrases that appear in the page title, URL, H1 tag, and other headings?
How many images are there?
How many paragraphs are there?
After figuring that up, here's what I came up with:
I need around 1,700 words to meet the averages, but that's not always a hard-and-fast rule
I need at least 29 paragraphs (also not necessarily a required rule)
I'd like at least 10 images, but I know I won't be able to come up with that many.
I need at least 17 headings, but I probably won't be able to come up with that, either.
This, by the way, is why your favorite recipe site has such long narratives surrounding relatively simple recipes. It's not enough to just have the recipe anymore. We're all in an arms race against each other to "out answer" competitors.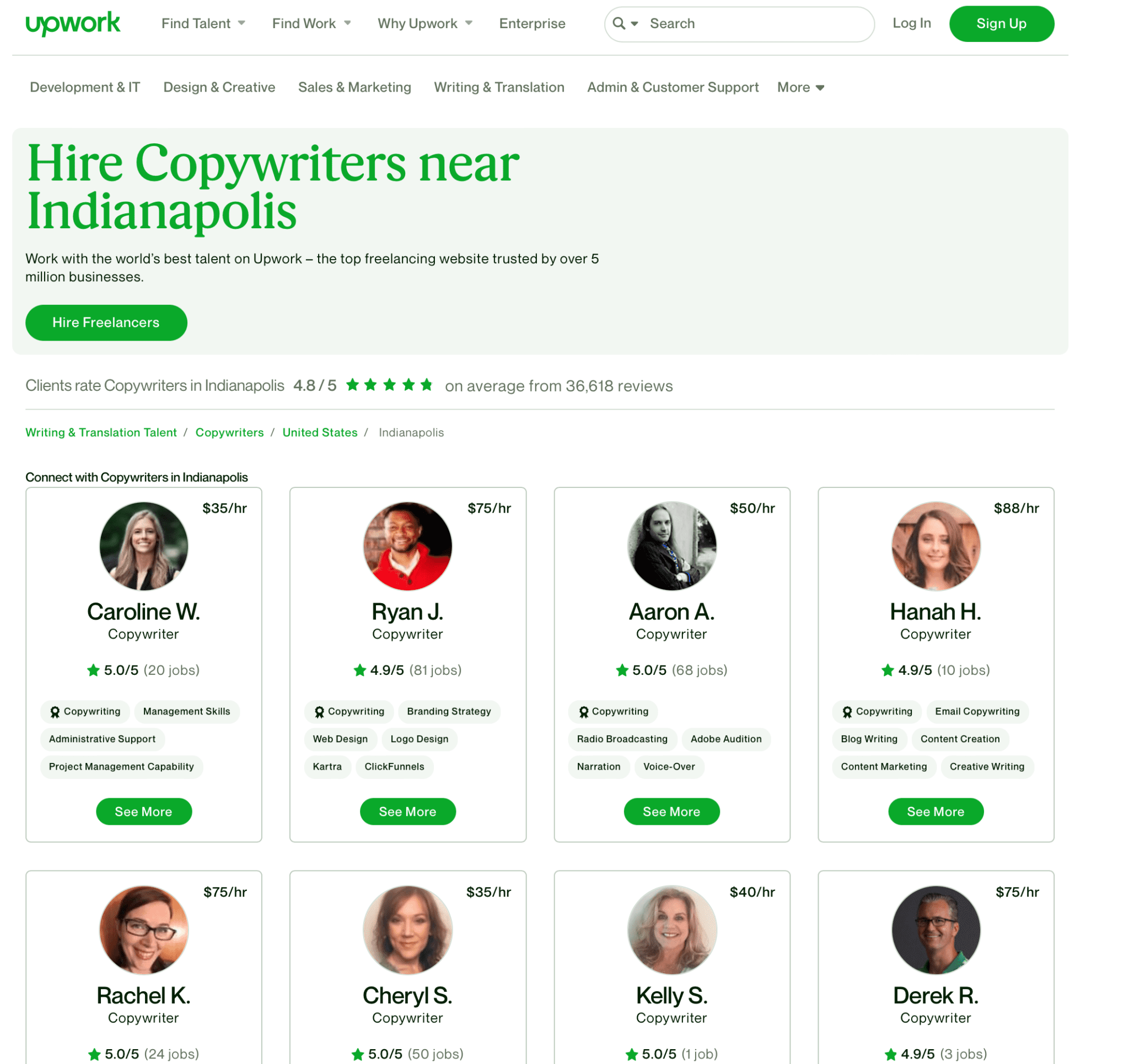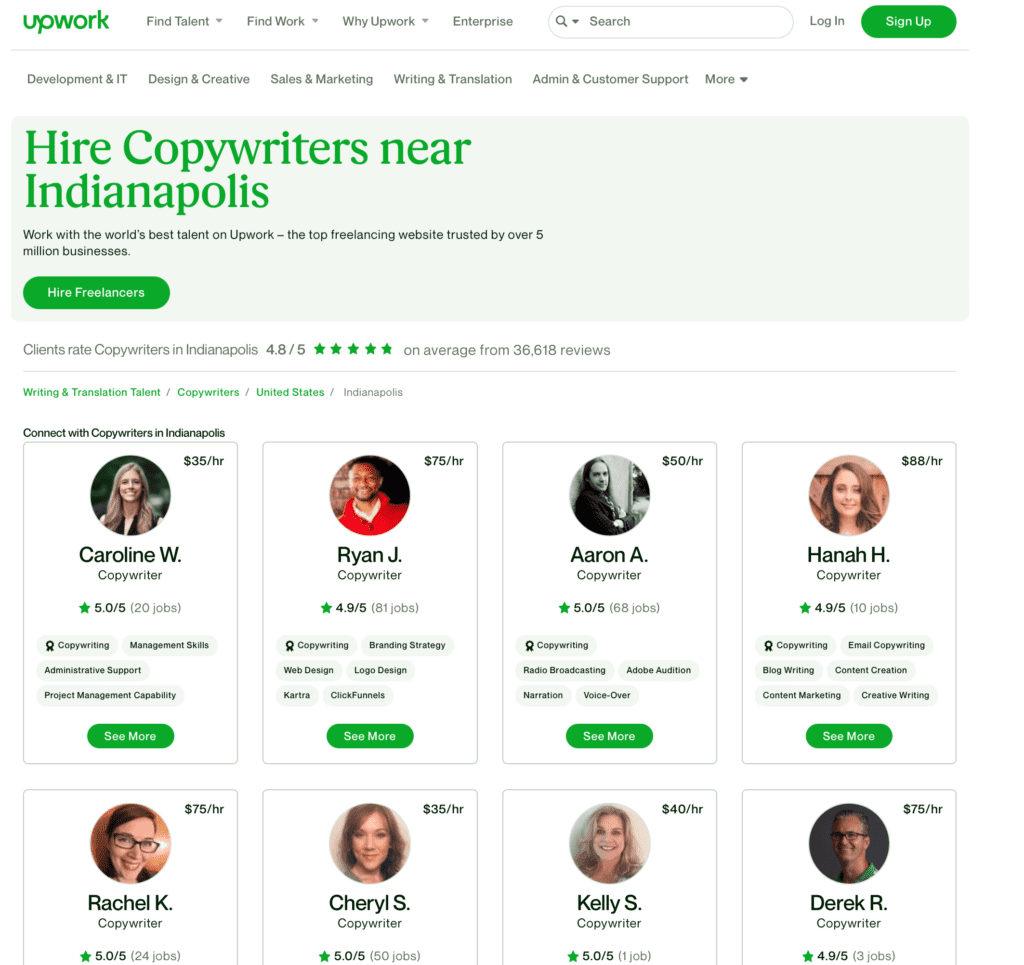 Identifying the exact keywords and "key phrases" related to search intent
Creative writing needs pizazz for humans to read it, but humans don't come unless the bots think it's worthy first. And bots don't understand pizazz. This is the tragedy of today's internet: you can write something nice, but if no one can find it, does it even count?
I'd argue, "yes", it counts. But for my purposes and my business, I need to ratchet up the page listings to at least page 2. Most queries won't go beyond page 1, but with so many aggregators, I'm betting I can at least get to page 2 and some people who know they want a sharp freelancer will click past that first page.
To do that, I need to identify keywords that need repeating. Not stuffing, but repeating. Here's the list of words I came up with that needs integrated into a page about copywriting:
digital marketing

social media management
project management
social media marketing
indianapolis copywriting company today
marketing campaigns
marketing team
marketing teams
academic papers
web development
academic writing
marketing copy
technical writing
creative copy indy
such quality work
graphic design
senior copywriter
website copy
freelance writer
public relations
content marketing
microsoft word
lead generation
company's voice
creative copy
media relations
email marketing
content writing
press releases
best service
social media
quality work
nearby cities
copywriting need
landing pages
best copywriters
copywriting
small businesses
business
services
marketing
companies
team
advertising
writing
clients
strategy
copywriters
customers
creative
communication
focus
personal writing
print
copywriter
editing
digital
ability
brand
service
ideas
branding
career
businesses
website
indianapolis
quality
websites
online
blog
job
hire
company
knowledge
communications
voice
create
print ads
technical writing
organization
Next comes the creative copywriting part
Most SEOs know all this stuff 👆. The hard part is writing stories that sell and incorporating those keywords and phrases. PLUS, you have to know how many times to use them. Too much and you're stuffing. Too little and you're not working hard enough.
What happens to most websites is someone usually demands they get to the top of Google right now. And capitalism guarantees you'll find someone who will promise you top results right now. These are often offshore writers who don't speak English as their first language. These people are writing for bots, not humans.
A bet on SEO long-term
I know this takes time to do it well and do it sustainably, which is why I write for humans first. I forget about a lot of the SEO technical mumbo-jumbo and focus on writing a page where the words sign and people seem interested in a story.
I'm making the bet that Google will continue to get smarter, as it has for twenty years. Someday it'll know the AI-written gobbledygook that has words, but doesn't really say anything from the pages that are offering heartfelt education or entertainment.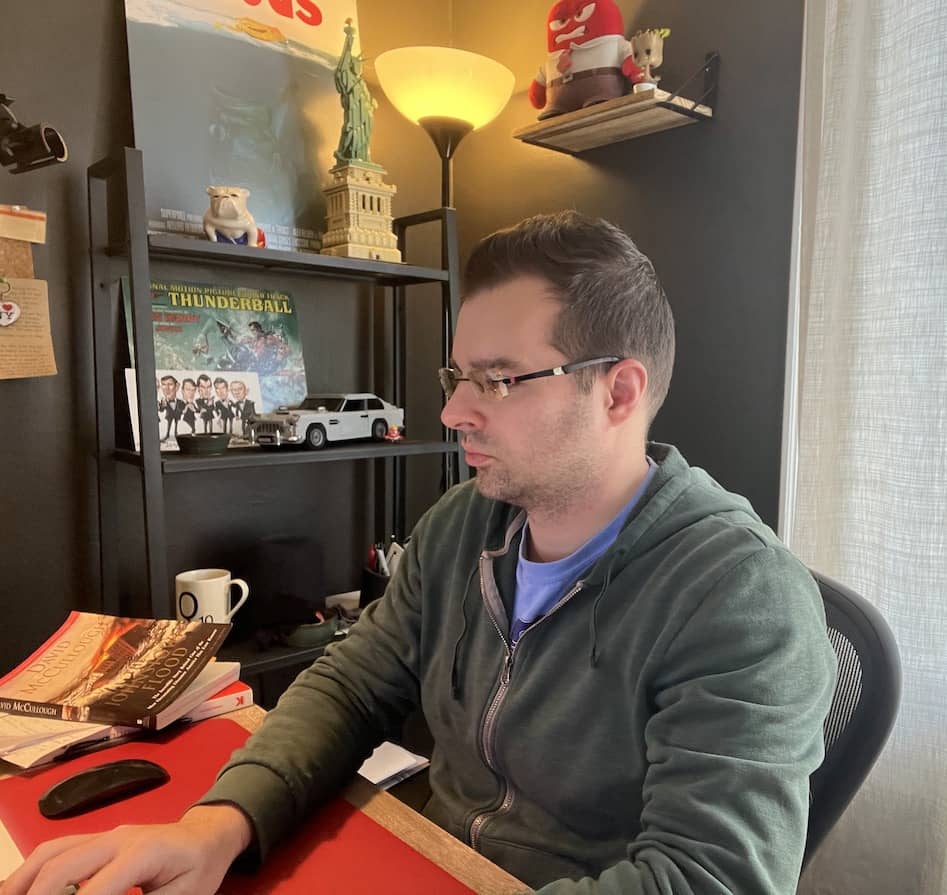 Now we wait, measure, and revise.
I'm as surprised as anyone half the time when a page I writes lands in the top of a search results page that has a lot of traffic. Some of my favorites are one on Indiana's Mandated Reporter law, and another on when paint smell goes away, of all things.
But now that I've spent three hours writing this page, showing you my work, and you landed here, the results speak for themselves. I publish, measure, revise, and wait to see what comes of it.
That's my SEO process in a nutshell.
Get creative, world-leading copywriting that marries all the best of SEO and design with words people want to read.
Contact me and I'll get to work on your website.