Anytime you hear about daring military leaders in history, you should stop and ask, "Wait, what did this person actually do?" Because most of the time you'll find they were figureheads, decision-makers, or directors. Not to diminish their role, but ultimately someone else was doing the trigger-pulling and fighting.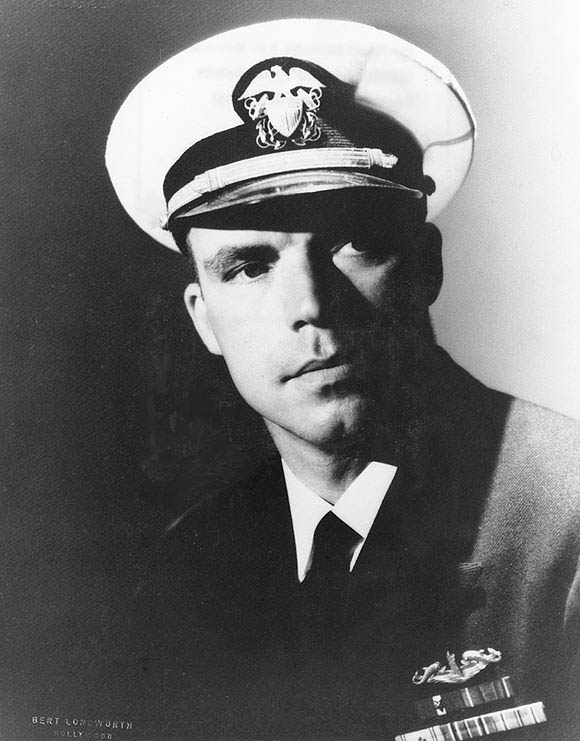 The quiet, lesser-known names are far more fascinating to me because they push boundaries and make new discoveries. I've been reading Ian Toll's excellent Pacific War Trilogy and stumbled across a name I had never heard before: Dudley "Mush" Morton.
A native of Ownesboro, Kentucky, Morton had a jawline and mouth that resembled "Mushmouth", a popular cartoon character in the Moon Mullins strip. The nickname was shortened and stuck, no doubt owing to his thick Kentucky drawl.
Morton was elevated in command of the USS Wahoo in 1942 after the sub's prior commander, Marvin Kennedy, was relieved of duty. The crew grew weary under Kennedy's apparent lack of nerve to go after enemy Japanese targets with gusto.
Toll describes him as "ruthless" and regarded it his job to "sink every Japanese ship that floated." But he also walked around the sub wrestling with the enlisted men, wore a garish red robe, and had an informality that likely would have been intolerable anywhere but underwater.
When the Wahoo left for its third patrol on January 16, 1943 — the first with Morton at command — the orders were to sail along the coast of New Guinea and check out the little-known Wewak seaport. Here, Morton redefined what it meant to be a submariner.
Rather than cruising slowly underwater, Morton charged the Wahoo along the surface at night and for an hour each day before and after dawn when daylight posed the biggest risk from aerial attack. Even when they did spot a plan, Morton refused to dive, preferring to maintain speed.
Morton took a more audacious use of the ship's periscope, using it for lengthy periods at all hours of the day and night, high in elevation, and even used a second scope.
Under orders to conduct "daylight reconnaissance" of the Wewak harbor, Morton interpreted this as "enter and attack enemy shipping." This, in an uncharted enemy harbor, was tantamount to cowboy tactics. He was no cowboy, but he was steely, big, and had a swagger to him.
At dawn, Morton commanded the Wahoo into the harbor navigating tight passages, reefs, and the real possibility of running aground or being attacked at a mere 3 knots (about 1.5 MPH). Spotting several destroyers (the submarine's natural enemy) moored nearby, many commanders would find reason to retreat. But Morton ordered torpedoes at the ready, despite choppy seas, unknown water depths, and unknown barrier reefs.
At battle stations, the crew opened the torpedo-tube doors and prepared for a firing range of 3,000 yards when one of the ships began to depart. "Captain, she's gotten underway headed out of the harbor. Angle on the bow ten port," came the reply from the periscope operator. At this turning radius, the ship was angled straight down on the Wahoo.
"Right full rudder."
Morton planned to pass right under the ship, then try to shoot from the side. But another sighting indicated the ship was zigging, now at 40 degrees. Without time to guess speed, Morton assumed it was probably moving at 15 knots. "Fire the torpedoes."
Three torpedoes fired from the bow, and all missed. The underestimated the ship's speed. They fired a fourth, but the Japanese lookouts spotted its wake. Fully alerted, the ship turned away and evaded the shot.
Peering through the telescope, the crew "now beheld the most dreaded of all images—a towering bow, looking huge in the circular field, with a surging bow wave." One crewman said he felt "An uncontrollable urge to urinate."
"That's all right," said Morton. "Keep your scope up and we'll shoot that SOB down the throat."
The "down the throat" shot was only a theory among submariners. It had never been tried. The theory being a submarine could shoot two front-facing torpedoes directly at an oncoming ship. Most regarded it as a "desperation shot," a final parting attack when you're out of options and can't dive.
The Wahoo had two such torpedoes. But fire too soon and the ship can evade. Fire too late and they won't detonate.
"Any time, Dick," said Morton to his Lieutenant.
One torpedo fired but was evaded. The last was fired, and Morton ordered a crash dive; "Brace for depth charges."
The torpedo hit with "an immense tearing sound, almost like a bolt of thunder." The Wahoo lifted its periscope to take pictures.
Without torpedoes, Morton turned around to make for base. On subsequent tours, Morton would redefine submarine tactics again, this time by using the ship's smaller 4″ and 20mm mounted guns to shoot at lesser vessels on the surface. The crew fired so many 4″ rounds it tore the metal plating off the ship. Still, upon firing at a troop transport ship, Morton remarked, "I will prevent these soldiers from getting ashore, for every one who does can mean an American life."
When the Wahoo returned to Pearl Harbor after its tour, a broom was mounted to its bridge, signaling a "clean sweep". In every patrol, Morton took his pathological desire to sink every Japanese ship they found to heart, simultaneously reinventing what it meant to be a submarine. His tactics became widely studied and the de facto standard in the U.S. Navy. Under Morton's command, the Wahoo undertook four offensive patrols, sinking 19 cargo and transport ships for a combined total of 55,000 tons. They even managed to take a few Japanese as prisoners on a submarine.
On its last patrol toward the Sea of Japan, a target no Allied vessel had dared yet tread in, it was sunk in the Yellow Sea, itself a "virgin territory" for Allied vessels. Daring and bold as ever, Wahoo was saddled with numerous dud torpedoes, a common complaint among all ships at sea in the Pacific. Several failed to detonate, fire, or in one case, even took a U-turn back to the ship. Without being able to defend itself properly, the Wahoo was struck by an aerial torpedo and sank. It was later discovered in 2018.
Despite Wahoo's relatively early demise in the war, Morton earned his status as the war's "MVP" among the Pacific submariners. Even after their relatively early sinking, Morton was second in the whole war for tonnage sunk. It would have been higher, even at half the war's length, had the torpedoes appropriately functioned. Several Mark 14s fired at oil tankers and transport ships failed to detonate and bounced harmlessly off enemy hulls. "Damn the torpedoes," indeed.
The Tang, commanded by Dick O'Kane, who sailed with Morton on the Wahoo in his inaugural command voyage learned from him, took up the mantle of the Pacific's MVP. It sank 33 ships totaling 116,454 tons and damaged another 4,100. Tang, alas, was sunk when one of its torpedoes made a U-turn and struck back at the ship in the Taiwan Strait.
I find the story of "Mush" Morton absolutely fantastic. A reminder that someone somewhere, even from Owensboro, Kentucky, ought to be able to find a way to do something extraordinary.