Shortly after my mom died her obituary appeared in the Salem Leader. It was frustratingly short at only a few lines, had little mention of her as a person merely mentioning she was a homemaker. Of the three or four lines it took up, fully half of it was consumed by the survivors names which was just me, my father, and my grandmother. A couple of names appeared as prior decedents.
That has always bothered me. I was 15 at the time, so I wasn't consulted about it. But after my grandmother died, I vowed not to make that same mistake and wrote a much more robust obituary for her. I've worked in genealogy and research long enough to know how important obituaries are and while I can't get a new one in a paper, I can at least publish it here in the hopes it will be archived…somewhere…for the future.
Donna Sue Harter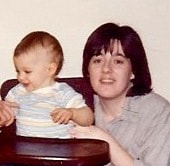 Mrs. Donna Sue Harter died Friday, January 18, 2002 after a two-year battle with brain cancer. She was 40 years old. Born August 26, 1961 in Somerville, New Jersey while her parents William and Wilma Blankenbaker were traveling, she returned to Washington County, Indiana and was never in New Jersey again.
A graduate of Salem High School and lifelong resident of Washington County except for the first few days of her life, she married Jerry Lynn Harter on July 13, 1985. She was never a part of clubs, groups, or worked at a place for any length of time. Instead, she worked as a homemaker at a time and place when being a homemaker was an incredibly challenging job. Her work required talent for saving and spending, cooking homemade meals nearly every evening, and exercising superhuman patience teaching and tutoring spelling, math, and writing to her son, Justin.
Quick-witted, cautious, strong-willed, and reserved, she was always able to fill a room with her personality when she wanted to—which was rarely necessary for her. She knew the names of every celebrity in nearly every movie and TV show, and loved the simplicity of a Big Red soda and Funyuns with a bologna sandwich for lunch. She also enjoyed iced tea and a sense of taste, style, and order around her—two characteristics she passed on to her son.
At the time of her death she is survived by her husband, Jerry, her son Justin, and her mother Wilma Blankenbaker, all of Salem.
Services were held at Weather's Funeral Home in Salem, Indiana with a procession immediately following. She was buried at Mount Washington Cemetery in Pekin, Indiana on a cold, lightly snowing January 20, 2002, precisely 2 years and 4 days from her initial brain tumor diagnosis. She fought every day for those two years to see her son graduate high school, but did not survive. She is buried next to her only sibling, Raymond, who died as an infant.