I started using Goodreads to track my reading habits in 2011. Since then I've added 462 books to my "read" list. Among those, I've given a mere thirty-three books a 5-star rating.
David McCullough takes the most 5-stars, which isn't surprising given my interest in history and biography. And there's not a lot of fiction in my reading and none in my top thirty-three.
The book ranking criteria
My criteria for 5-stars is any book that does at least two of the following:
Is life-changing or has a clear application in how I view a problem, life, or work.
Is well-written without a lot of "fluff". Part of my disinterest in fiction comes from books that monotonously explain characteristics, places, or scenes.
Is funny enough to make me laugh, shocking enough to make me re-read passages, or makes me jot down notes throughout.
In no particular order, here are the 33 best books I've ever read.
Brave Companions: Portraits in History by David McCullough
I have nothing but respect for David McCullough as a writer. I've read every one of his books and have watched dozens of interviews with him on YouTube. I'm impressed by how he writes in a small wood shed in his backyard. Every book he's ever written has been on the same typewriter. And when asked why he doesn't use a computer because it'll help him write faster he says, "I don't want to write faster. If anything I want to writer slower!"
He cares about individual sentences and Brave Companions is McCullough caring about the smaller, lesser-known figures in US history. Covering individuals like Alexander con Humboldt's discoveries in South America to Harry Caudill, a Kentucky lawyer who sounded the alarm over ecological destruction in Appalachia, the book covers a significant number of years. And every one of the subjects in this collection of short stories has a clear purpose.
Sam Walton: Made in America by Sam Walton
When reading books about people I rarely turn to autobiographies. Reading what a person thinks of themselves is useful and can be interesting, but it's tilted. Sam Walton, founder of Wal-Mart, surely leaves out a lot of unsavory details. But it's written with his voice at heart you could be excused for thinking the ghostwriter did no work at all beyond transcribing Walton word-for-word.
Three pieces have always stuck out to me about this book. Walton saw the value in rural America when big names like K-Mart and Sears did not. He was anti-union because, in his words, "If people couldn't talk to management about real problems I figure that means something's gone wrong with management." And Walton may be the only person who is cheaper than me.
Confessions of an Advertising Man by David Ogilvy
I read this in 2014. Originally written in the 60s it even plays a significant plot role in AMC's Mad Men. This was a world-changing book for me in that I stopped thinking about my work as merely making a website and started thinking about it as advertising.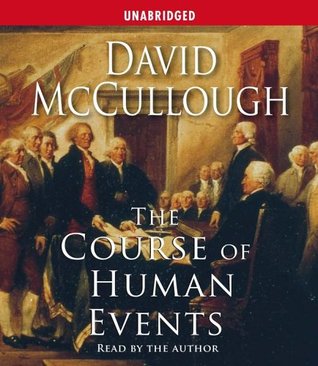 The Course of Human Events by David McCullough
Another collection of short stories about key players in American history, but not the ones you're thinking of, like Simon Willard and the most significant clock in the US you've never noticed. This book is a speech published in book form and the audiobook is read by the author, which is wonderful.
The E-Myth Revisited: Why Most Small Businesses Don't Work and What to Do About It by Michael E. Berber
I read this way back in 2011 and it was what instilled the notion in me "If you have a business and can't leave for a day, you don't have a business, you have a job." I've come around on my thinking about that since then. A good counterpoint is Paul Jarvis' Company of One.
Tested Advertising Methods by John Caples
I made a ton of notes out of this book. It was an excellent collection of headlines, words, sales letters, and more that has been in circulation since 1998. Despite being pre-Internet, I found everything about it is applicable to today.
The Best Little Boy in the World by Andrew Tobias
This and its follow-up book The Best Little Boy in the World Grows Upwere the first autobiographies I ever read. I remember reading both of these books over lunch Saturday mornings when I was in high school. I re-read them, something I rarely do, in 2011. My fascination with them stems from the story of a young gay man navigating the 90s. At the time I read them Tobias' character in the book was about 15 years older than me and I could sorta glimpse what life was like for him, and what it would be like for me.
Good to Great: Why Some Companies Make the Leap…and Others Don't by James Collins
This book pops up on all sorts of best-seller lists and it's easy to see why. It's well researched and authoritative.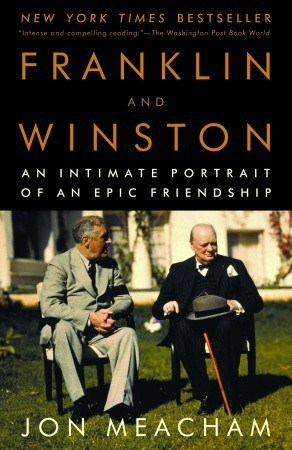 Franklin and Winston: An Intimate Portrait of an Epic Friendship by Jon Meacham
The world is not without books on Churchill or Franklin Roosevelt. This one made the effort to talk exclusively about the relationship between these two men. I've read a lot of books about WWII and how three guys named Frank, Winston, and Joe conquered evil. This is the best book I've read to help understand two of the three as more complicated people.
The Johnstown Flood by David McCullough
This was McCullough's first major book and it's great. It's fantastic in story, delivery, and detail. So many passages make your jaw drop as you visualize the devastation of what was the worst and still is one of the most deadly US disasters. Stories interweave about who was at fault, who tried to help, and how the aftermath of the Johnstown, PA flood was handled.
Truman by David McCullough
A thick book, but it was a heady period. So much is written about FDR in WWII and yet it was Truman that arguably had the hardest job of all to bring the war to a close, rebuild the world, and carry the country forward. Made all the more impressive when you recognize Truman was truly an American story in the flesh: a poor, humble haberdasher from Missouri who walked among giants. A student of history, not afraid to say he didn't know something, and the last US President to not have a college degree* (*Yes, Trump technically holds a degree. You can decide how he got it.)
Presentation Zen: Simple Ideas on Presentation Design and Delivery by Garr Reynolds
I read this at a time I was making a lot of presentations early in college. I found it applicable and packed with lots of useful nuggets. Like knowing if you're presenting in a dark room or not, and making sure your slides are dark or bright accordingly. No one in a dark room wants to stare at a white background on slides.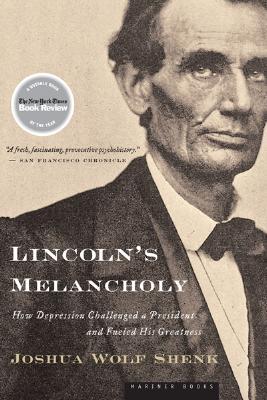 Lincoln's Melancholy: How Depression Challenged a President and Fueld HIs Greatness by Joshua Shenk
The world has zillions of books on Lincoln and they all briefly touch on how sad he was much of his life. This is the only book that dives in on that and it's eye-opening.
Part of the history might be lost because we just didn't have the vocabulary to describe what he felt in his time and translating that to today can make historians uncomfortable.
Shenk pulls it all together. I learned Lincoln was so sad while living in Illinois his colleagues around Springfield removed all the sharp objects from his room so he couldn't kill himself.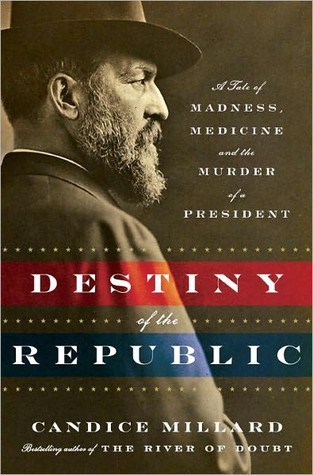 Destiny of the Republic: A Tale of Madness, Medicine, and the Murder of a President by Candice Millard
A book I've bought as gifts and recommend to everyone who asks what a great biography they should start with. This book has everything and is wonderfully written. I could barely put it down. The US has just started to rebuild from the Civil War, along comes James A. Garfield, a man from Ohio who has respect from southerners and northerners alike. And he's shot on a train station platform shortly into his term. The stories of what doctors — including the first black physician to work on a President — to the Army to the country to Thomas Edison did to help the President is just stunning. Many historians believe Garfield's 90-day long death is what helped the country heal from the Civil War.
Steal Like an Artist: 10 Things Nobody Told You About Being Creative by Austin Kleon
A short book that's easy to skim through. I'm usually not a fan of this style of book but these nuggets were helpful for anyone who suffers from imposter syndrome.
Creativity Inc.: Overcoming the Unseen Forces That Stand in the Way of True Inspiration by Ed Catmull
I've read a lot about Pixar and none of the books leave me satisfied in the way this one from Pixar's Ed Catmull did.
Becoming Steve Jobs: The Evolution of a Reckless Upstart into a Visionary Leader by Brent Schlender
The official Jobs biography by Walter Isaacson isn't great. Isaacson has said he likes to write his books a page or two at a time in-between free moments. He should try something else because I've never liked any of Isaacson's books. This one on Jobs by Schlender is fairer, more accurate, more researched, and should be the definitive book on Steve Jobs.
Being Nixon: A Man Divided by Evan Thomas
Conan O'Brien couldn't say enough good things about this book and for good reason. It's a page turner and among the finest books written about Nixon that captures his essence. We're tainted by Watergate and have weird charicatures of him in our minds. But truly, he was a political genius, smart and savvy, and incredibly socially awkward with paranoid tendencies that were his undoing.
Deep Work: Rules for Focused Success in a Distracted World by Cal Newport
Another book I regularly gift people because you can't help but nod your head to it the whole way through. This was the first of Newport's "culture and technology trilogy" and I figured he was some old coot who lamented the invention of email. But he's in his 40s and a researcher at Georgetown. Everyone should read this book and fight back against their awful office cultures.
Smarter Faster Better: The Secrets of Being Productive in Life and Business by Charles Duhigg
Like a lot of business books that bring in stories of people as useful anecdotes about how you should approach book, this one is no different. But where it diverts is the anecdotes. A lot of business books lean on tired tropes like how awesome Steve Jobs was or Winston Churchill. Never mind they were millionaires. This one has stories of people you might actually relate to, like airline pilots. Short and sweet, too, at less than a hundred pages.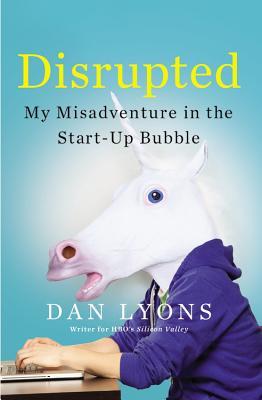 Disrupted: My Misadventure in the Start-Up Bubble by Dan Lyons
Lyons got a lot of press for this book because he was in the press and as layoffs hammered newspapers, he took a job at Hubspot. A company he describes as having a logo of "nine dildos arranged in a circle". This made me laugh and I almost never laugh out loud at books. Also probably because I'm not a big start-up guy.
Maybe I'm too midwestern, but I don't "get" the "start-up culture" or why people get off on being part of one. You're just a small business. Stop trying to make it seem like something bigger than you are. Lyons captures all that essence perfectly.
Five Presidents: My Extraordinary Journey with Eisenhower, Kennedy, Johnson, Nixon, and Ford by Clint Hill
If you ever wonder where small stories about Presidents come from it's usually the people that work around them. The White House butlers are a treasure trove of insights about the real people Presidents and first ladies are. Here, Clint Hill is a secret service agent and while he doesn't dish on any gossip like a true professional, it's insightful none the less. And you know who Clint Hill is: he's the agent crawling on the hood of Kennedy's car in Dallas reaching desperately for Mrs. Kennedy.
Perennial Seller: The Art of Making and Marketing Work That Lasts by Ryan Holiday
This book came around at a time I started to feel (and continue to feel) depressed by how ephemeral my work feels.
The American Spirit: Who We Are and What We Stand For by David McCullough
A collection of speeches given by McCullough and read by the author in the audiobook version. Each story more compelling and fascinating than the last. The kind of stuff that makes you go, "Huh! So that's how…"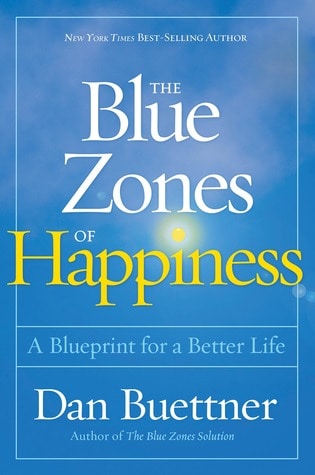 The Blue Zones of Happiness: A Blueprint for a Better Life by Dan Buettner
I took so many notes in this book, which was recommended by my friend Tristan. The depressing thing about it is is given all the research about what makes people and communities happy you realize why America is almost impossible to live in. It's almost a disservice to try and distill this book to this point, but I'll try:
The happiest people in the world eat a mediterranean diet, have a close circle of about a dozen friends they eat and drink with, don't watch much if any TV, work 6–8 hours a day, know their neighbors deeply, don't chase material things or care about money, have a close family, live near where they work and don't rely on commuting or driving everywhere.
And when you realize that and read the book you come away thinking, "No wonder this is why life feels like this."
Exactly What to Say: The Magic Words for Influence and Impact by Phil Jones
A newcomer to my list as of a few weeks ago, this is a short read. I read it on a bus trip and found it a great book to have on my shelf in case I needed to massage some kind of an email to someone, particularly to sell them on some thing.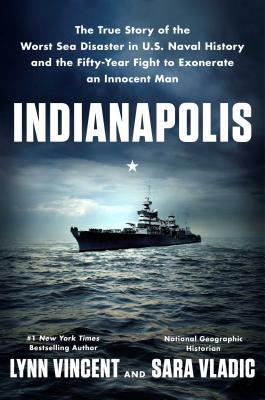 Indianapolis: The True Story of The Worst Sea Disaster in US Naval History and the Fifty-Year Fight to Exonerate an Innocent Man by Lynn Vincent
This book is horrifying. One excerpt that sticks with me is how the survivors of the USS Indianapolis bobbed along in the oil and water of the Pacific for so long they went delirious and many had to decide to push the suffering ones off into the water for the sharks to save everyone's lives. Or how once a ship finally did arrive to rescue them men jumped into the water to lift people out only to have their skin tear straight off their bones. And after all that our Navy spent the better part of half a century trying to blame the Captain.
As chilling as that is, the book is about the most realistic reading of naval life in WWII I've come across. But what's even nuttier is how the survivors continued to meet in Indianapolis until just a few years ago (age and death being what it is) — and they forgave the Japanese sub commander who sunk them. And they invited the guy to their reunions. Just stunning.
Choice Factory: 25 Behavioural Biases that Influence What We Buy by Richard Shotton
I took a lot of notes in this book and recommend it for anyone that just wants to understand how advertising impacts your ability to function so much as browsing the toothpaste aisle.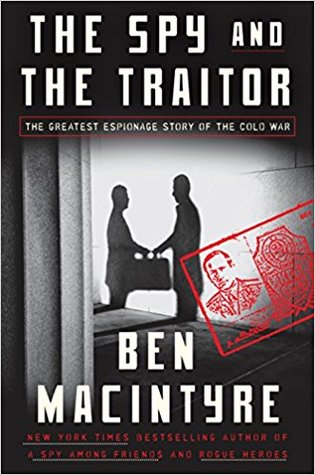 The Spy and the Traitor: The Greatest Espionage Story of the Cold War by Ben Macintyre
This title isn't kidding. It's a wild story that involves the Cold War being shrouded in a baby's soiled diaper. A little bit James Bond meets real life spywork and smuggling.
Of note when reading this book: you realize how dismal socialism must be because Soviet spies defected to the west all the time. Western spies defected to the east only when promised bags full of cash. And even then they had remorse about it.
Churchill: Walking with Destiny by Andrew Roberts
I've read a lot of books about Theodore Roosevelt (oddly, none of them rise to a 5-star) but when you read about him it's hard not to feel like a lazy putz. Churchill is the same way. This book captures his life in about as condensed form as possible and revealed a lot about him I didn't know. Still worth remembering that, like TR, Churchill was wealthy and had access to power in ways most people never do.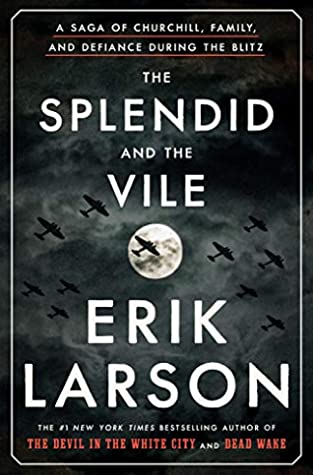 The Splendid and the Vile: A Saga of Churchill, Family, and Defiance During the Blitz by Erik Larson
This book has one of the best opening chapters I've ever read. The whole book focuses on a brief sliver of Churchill's amazing life: the blitz. The book ends with America entering the war after Pearl Harbor. But in between this book is packed with stories about Brits living under nightly missile and bombing attacks.
Someone in England is going to die every night and the chances it's you are low, but it could still be you. My favorite bit was about a young woman who decides to sleep with a man because, alas, it could be the last night of her life. And it was a good thing she did.
Or how Churchill would bound up the stairs during a raid to watch the action despite the pleas from his security to get to safety. The original exemplar of British fortitude.
Another book I often gift to people because it's so gripping. How it's not a movie with John Lithgow as Churchill yet I don't know.
A Promised Land by Barack Obama
This book was late and half done, so we'll have to wait for the next installment. But this portion takes us from the campaign to the Affordable Care Act. While I generally don't like reading books about Presidents by the men themselves, Obama's a great writer. And he's thoughtful in ways that make even tilted topics interesting and insightful.